Illinois' Leading Wholesale Tree Nursery Grower
We provide high-quality trees and shrubs to green industry professionals seeking a personalized experience and quality products at a fair price.
Healthy and Effective Cultural Practices
Our horticulturists and growers know how textbook theory and practical application come together to produce the highest quality trees and plants for wholesale.
Superior Customer Service
We do it all — send us your order and we'll tag, dig, load, and deliver your items. Our team is here to help you with everything you need.
Family-Owned, Expertly-Managed
Our family-owned and operated wholesale nursery employs expert horticulturists who care deeply about plant health and customer satisfaction.
500+ Varieties 
We have grown our nursery over the last few years to offer more of your clients' favorite varieties, adding trending cultivars every season.
Our History
Established in 1985, Goodmark Nurseries originally consisted of 160 acres, primarily growing large specimen shade trees. Beginning in 2001, we expanded to over 725 acres and added new varieties of shrubs, perennials, evergreens, deciduous trees, ornamental trees, and more.
Today, we supply green industry professionals across the U.S. with healthy, quality trees and shrubs, hand-selected to meet your requirements and delivered to your location. We're here for you — this season, and every season going forward.
Introducing the Goodmark Nursery Team
Meet the people bringing you high-quality specimens and service.
Carrie Makris
Sales Manager
Irvin Melchor
Human Resource Manager
Paul Ayers
Midwest Sales Representative
Fred Goldman
Midwest Sales Representative
Chris Franklin
Midwest Sales Representative
Joby Svec
Midwest Sales Representative
Isis Escobar
Inside Sales Representative
Melissa Acevedo
Sales Support & Marketing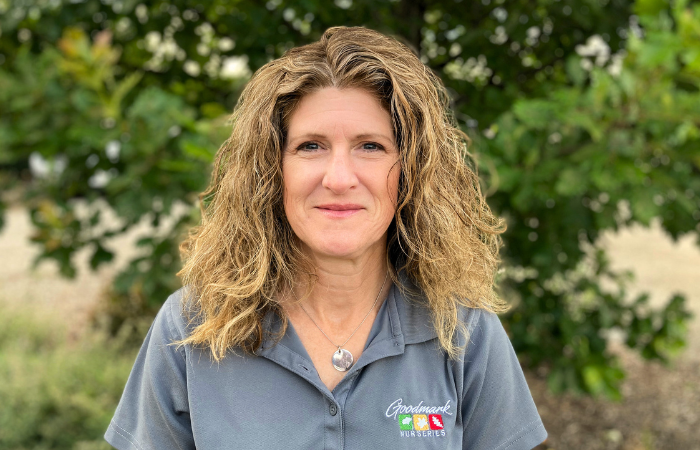 Marcia Perry
Inventory Manager
Heidi Timm
Inventory Specialist
Michael Schwantz
Finance & Budget Analyst
Adam Miller
Fleet and Facilities Manager
Dee Korwin
AP/AR Office Specialist
Vicente Cruz
Shipping Manager
Victor Lugo
Operations Manager
Andy Fields
Grower & IPM Manager
Luis Lugo
Production Manager
Your Success Starts with Expert Cultural Practices
Success doesn't happen overnight. When you choose a Goodmark specimen, you know that from seed to sapling, ground to container, your plant has been expertly tended.
Reduce Transplant Shock
We fertilize with slow-release granular nutrients and supplement growth with P.H.-adjusted water and water-soluble fertilizers to help nurture our trees for transplant success.
Select Healthy, Strong Plants
Our spring perennials go through vernalization — or overwintering — which is critical to producing larger, healthier specimens and avoids the hazards of winter planting.
Choose Well-Branched Specimens
All of our trees are pruned and staked at least twice a year, ensuring our plants grow straight and branch consistently.
Control for Pests
Our pest management team uses the latest integrated pest management innovations, like biological controls and degree day timings, to protect your specimens.
Join 1000+ landscapers and business owners to receive the latest news and updates from the Goodmark team!
Based out of Illinois, Serving the U.S.
Based out of two locations in Illinois, Goodmark Nurseries grows high-quality trees and shrubs to supply green industry professionals throughout the U.S.
Our two locations work together to meet your needs. Connect with us to learn more about our Illinois-based wholesale nurseries and how we grow, select, and deliver trees for your business.
Tips & Insights
Check Out The Goodmark Nursery Resource Center
Explore our gallery and articles to read about our cultural practices, get tips and advice, and stay up-to-date on landscape trends and best practices.